Medpage Today publishes news for the medical industry. Their primary platform is their website, but they also offer their news on a mobile app. However the mobile app had been neglected for a number of years. The website had evolved and expanded and the app hadn't been maintained. There was a need to define what characteristics the app should have in comparison with the website. How different should they be, and why?
To bring the Medpage Today app up to speed with the website and determine if any features should be added or omitted as compared to the website. Myself and another designer were tasked with researching the issue and proposing a new app design.
Research, solution ideation, usability testing, visual and UX design.
Research: Overview of News Apps
"Mobile users who access news through apps spend more time reading the content, but the overall audience for apps is small, so it's essential to know who those users are."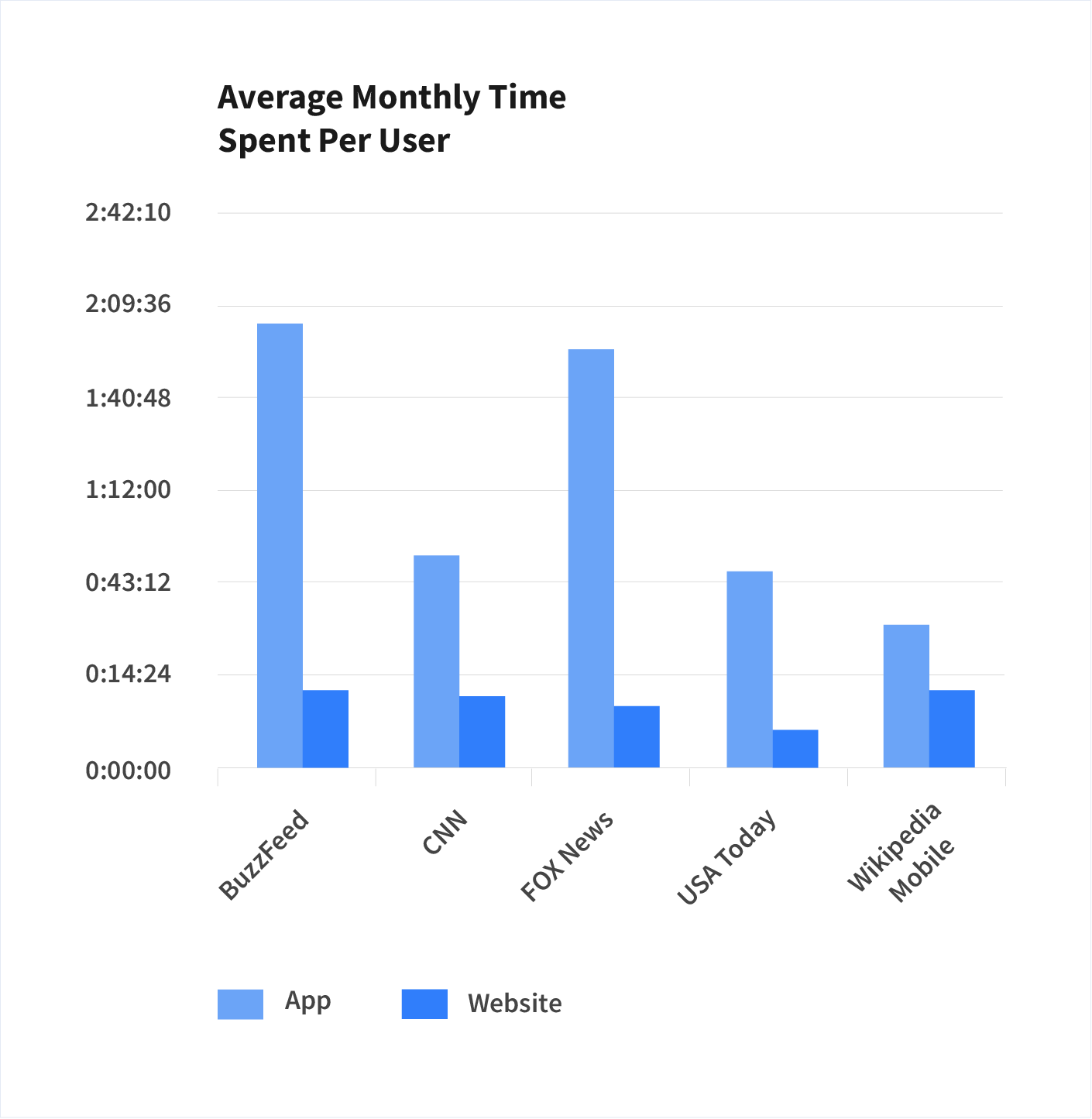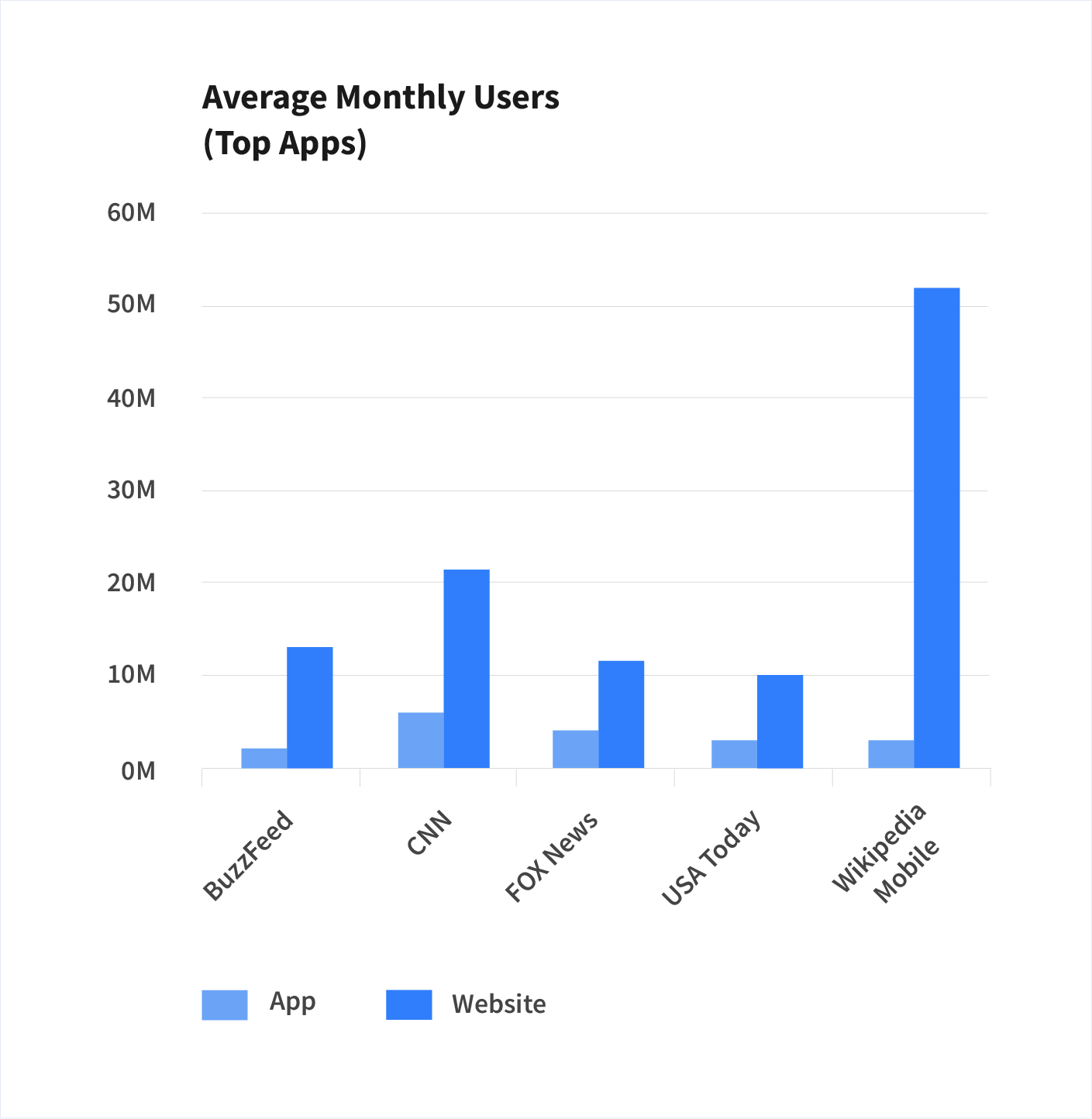 "News organizations across the spectrum are grappling with this issue, trying to determine a value proposition for developing a native (or brand) app versus focusing on a mobile responsive site. The audience for apps tends to consist of "power," or loyal, users, but the audience that uses mobile news sites (versus apps) may be quite different. An emerging discussion on the value of apps shows that some publishers believe that discussions around mobile strategy are too app-centric, and they question whether building an app is worth the time and expense. Others are betting that if an app is well designed and the audience is targeted, there could be substantial revenue opportunities."
Key findings and advantages of news apps:
• Opening a news app is simpler than navigating to a news website
• Better user experience (apps can offer UI features not possible in browsers)
• Singular focus of activity 
• Articles can be saved for offline reading
• Push notifications draw users in
• More screen real estate (no address bar)
• 90% Reach to over 30 MD specialties
• 780,000 Active U.S digital health care professionals
• 50% Split between desktop and mobile
• 2.6M Job seeking health care professionals
​​​​​​​
Before we began to imagine what the redesigned app might be like, we took a step back to see what the state of our current app was and to look around the news app space to see what the prevailing features, functionality, and design patterns were. We took the approach of comparing the 4 most important screens of a news app: registration, latest news, the navigation menu, and the article page.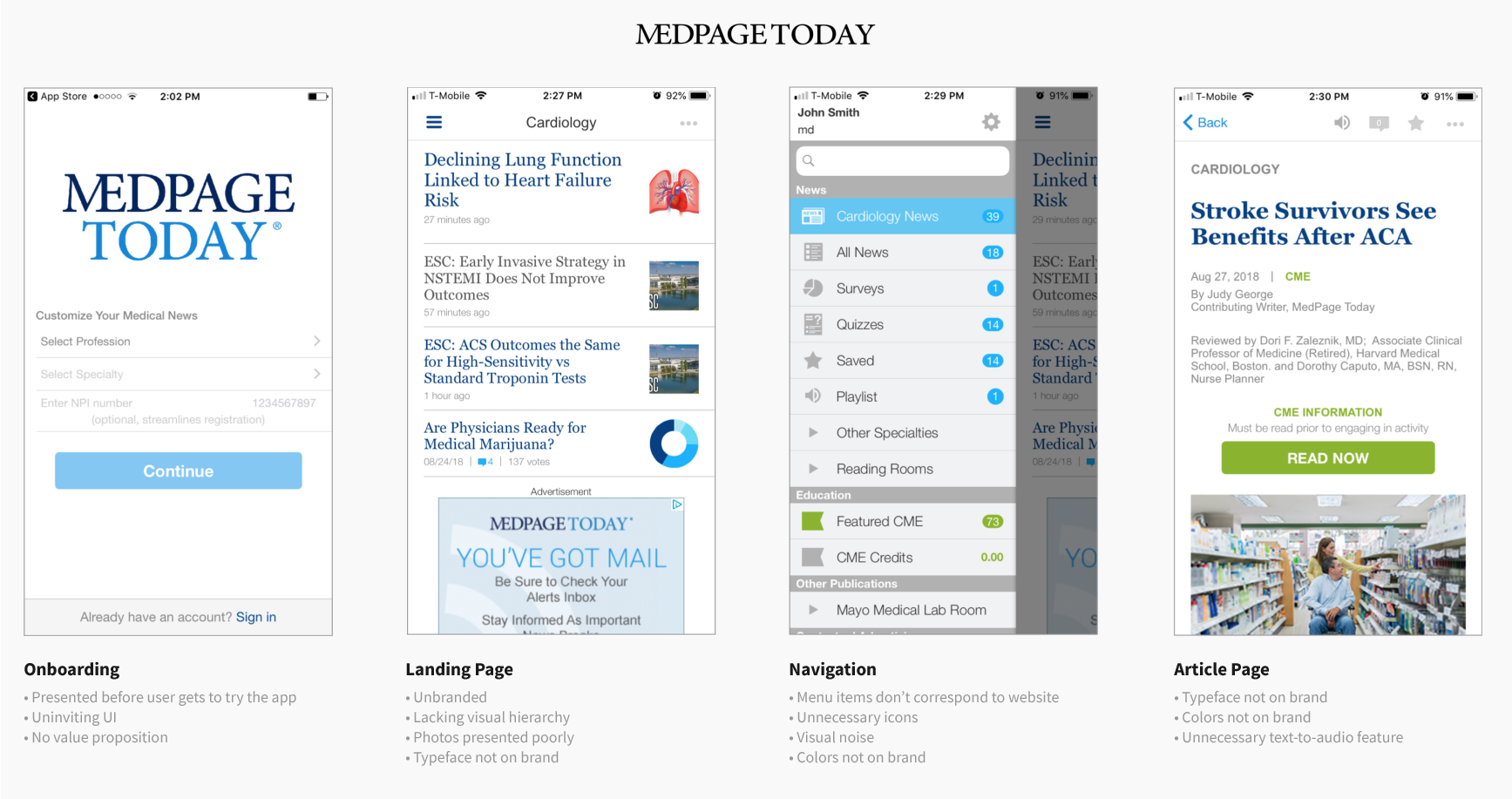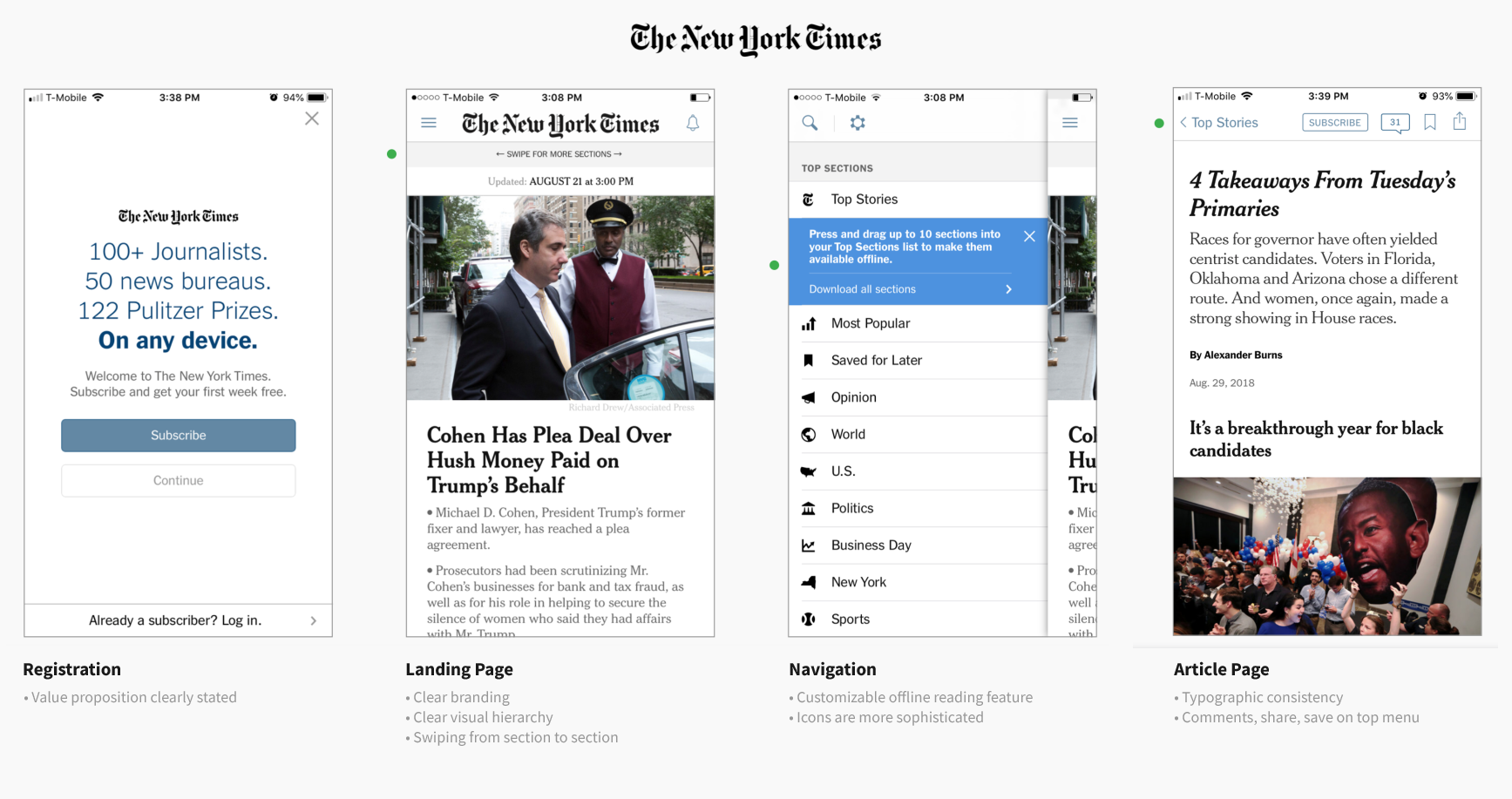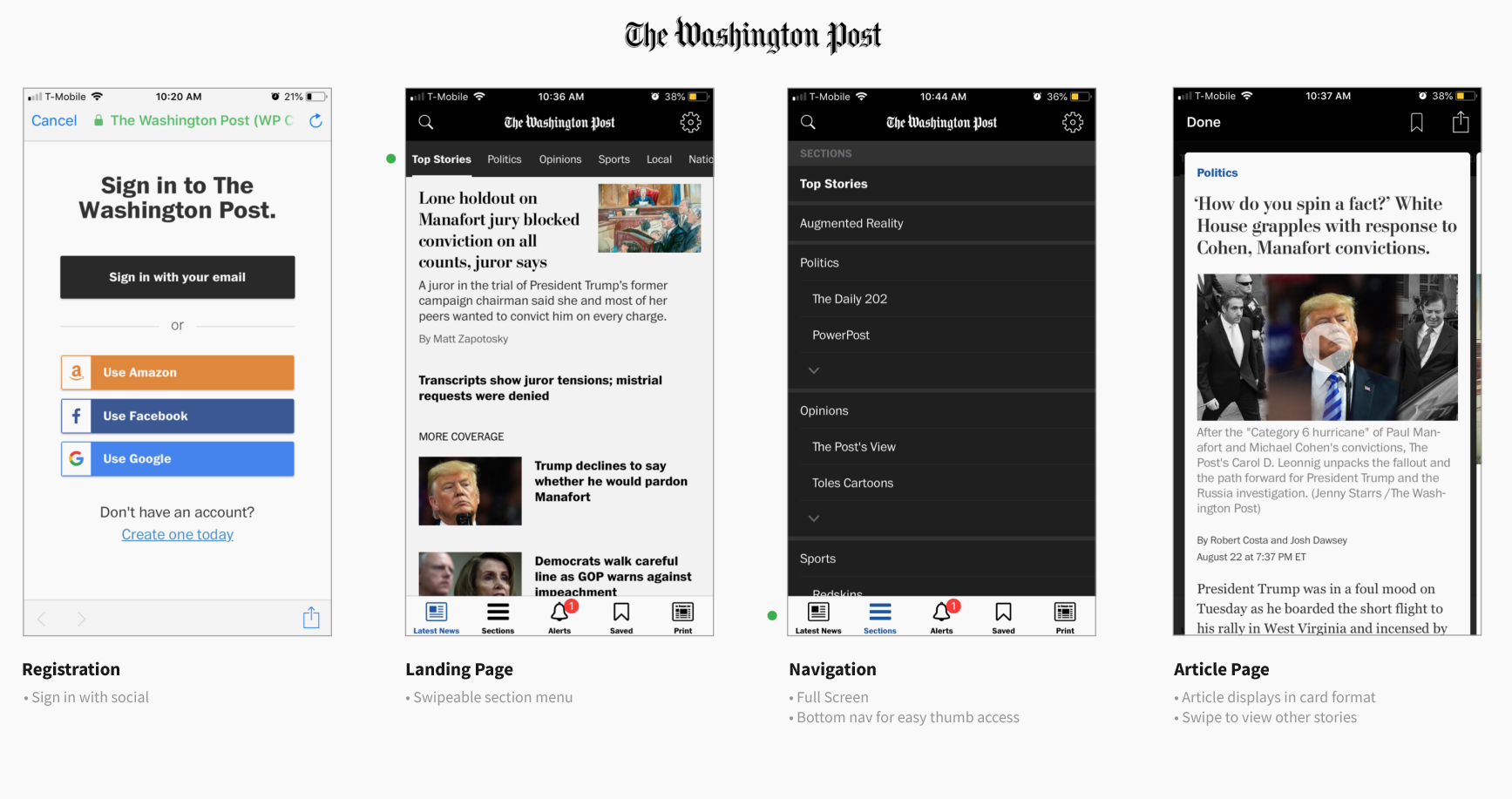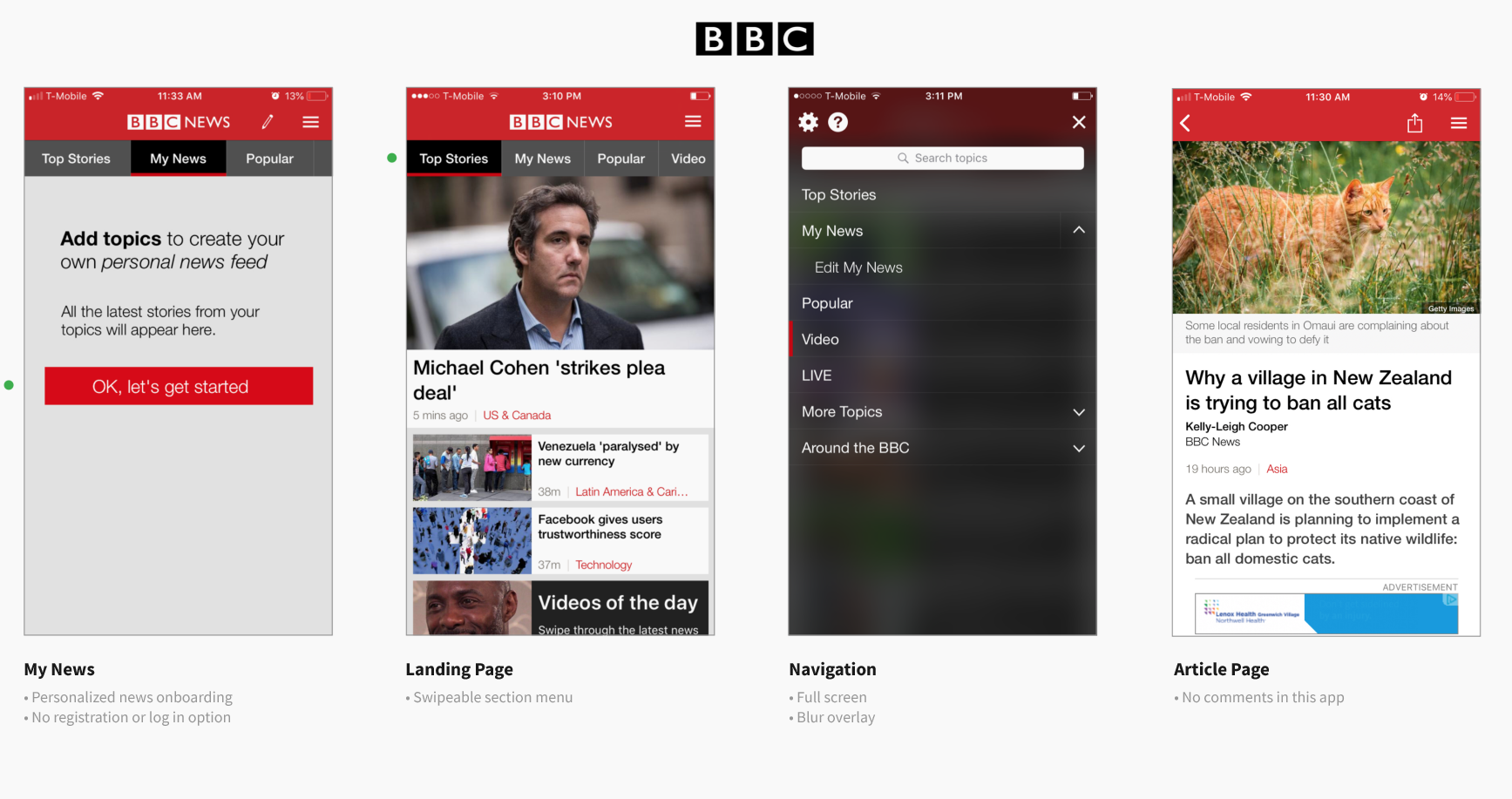 The 3 most prominent design patterns that emerged from our analysis were:
• Gesture based navigation 
The current user flow forces users to log in or register as a first step after downloading the app. Users are forced to fill out a form before they have even seen the app or had a chance to view our content. In order to create a more seamless user experience, the revised flow allows customers to view at least 5 articles before being prompt with a registration wall.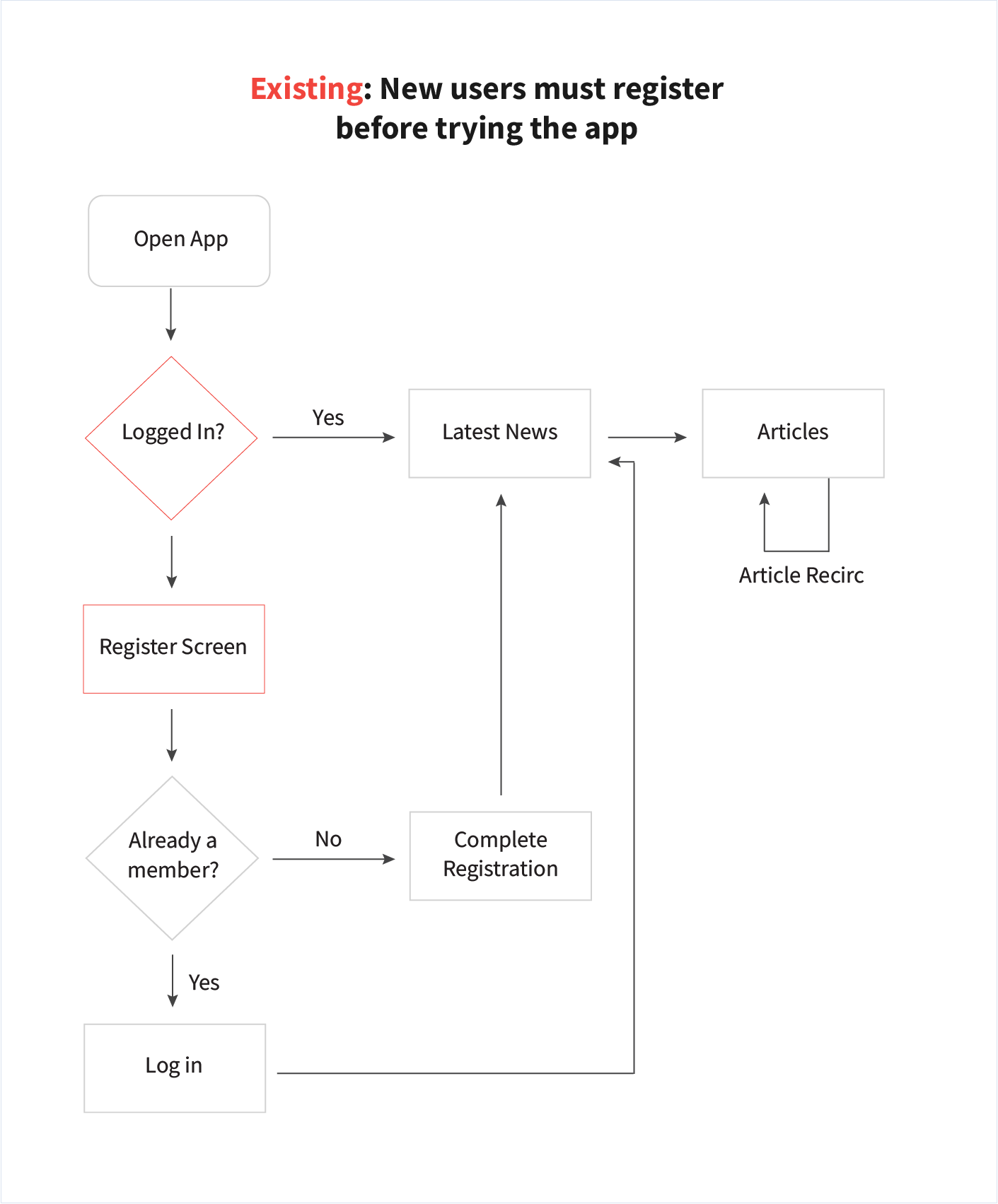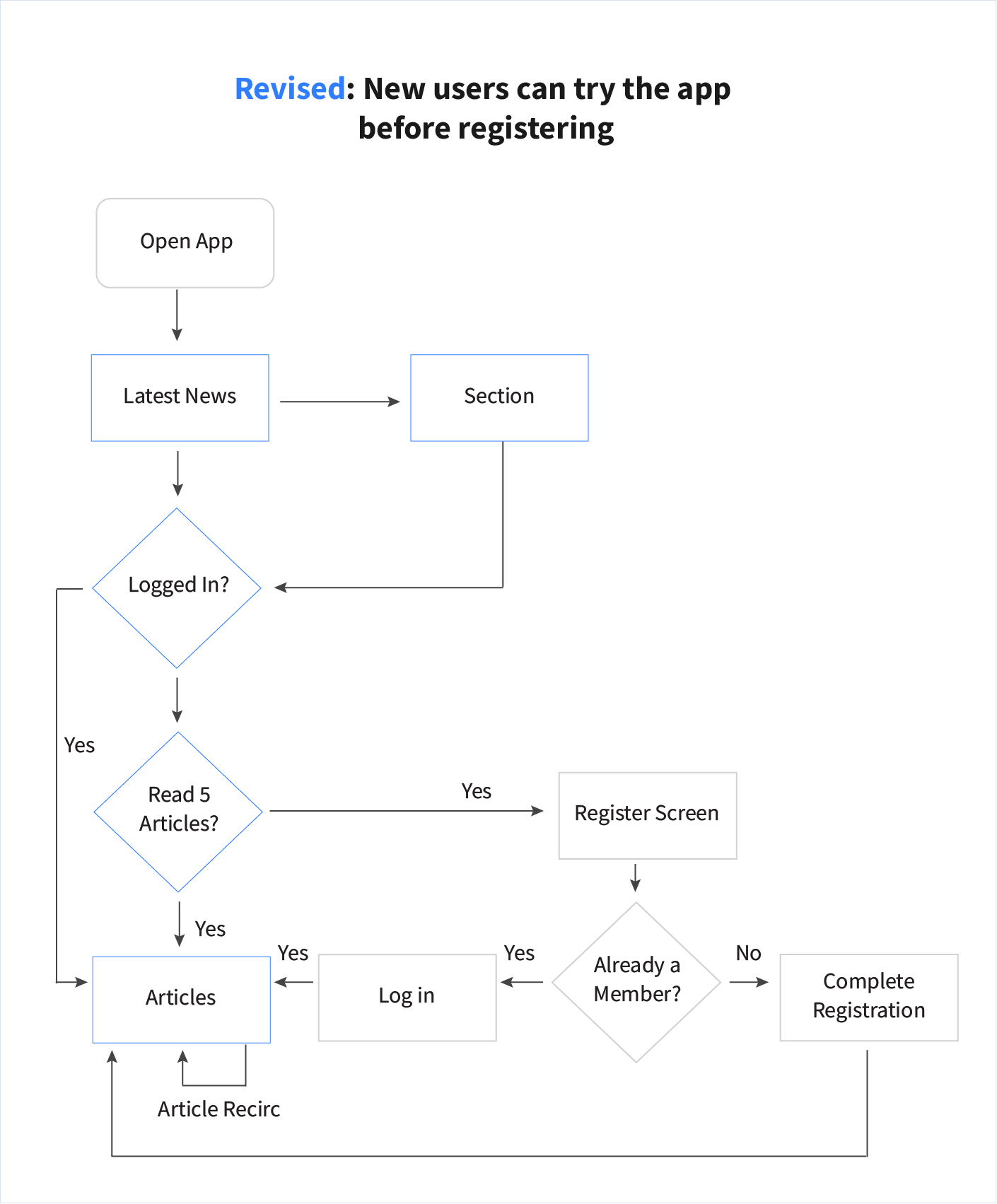 Starting from the assumption that Medpage Today should offer the same content on both their website and app, we documented the existing sitemaps of both the website and the existing app in order to gain insights into their differences and understand if they are rational and worth preserving. The end product is a proposed sitemap for the new app.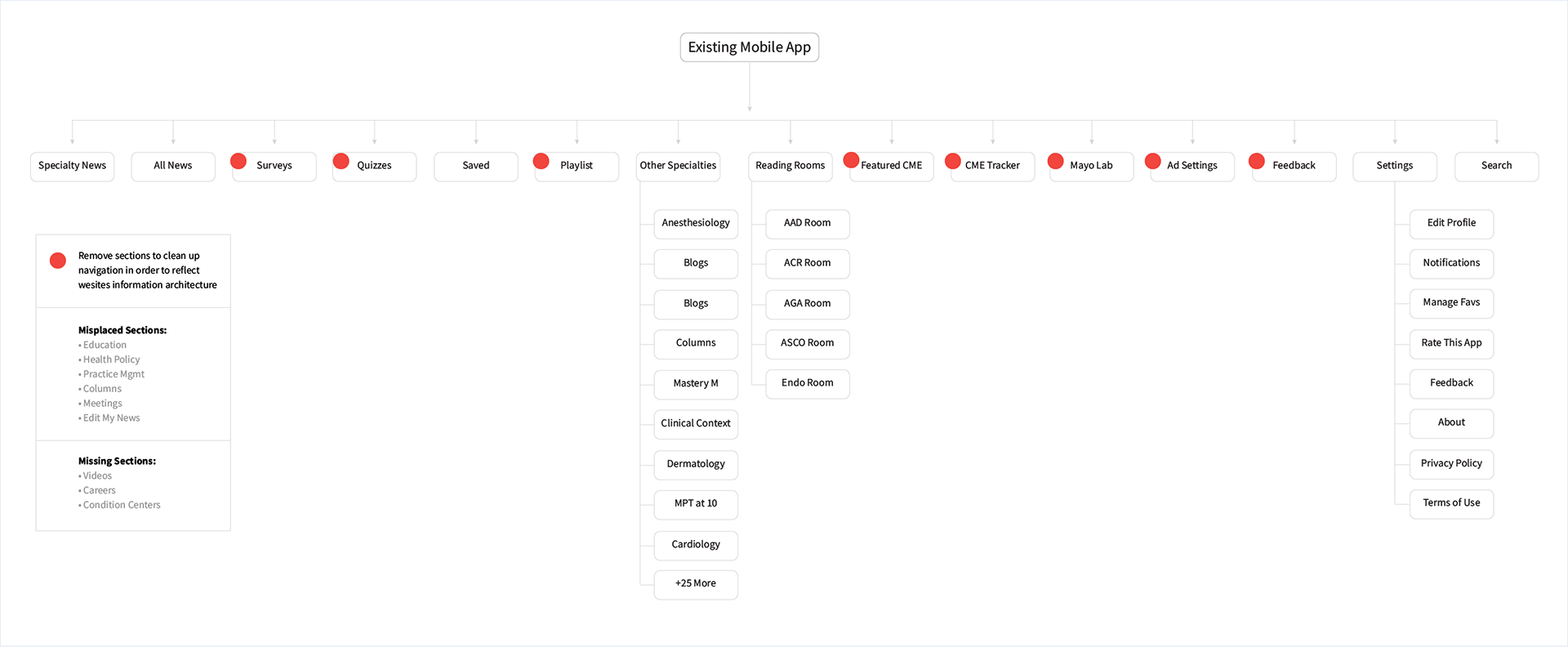 Our research generated an inventory of designs that the new app will require, and items required on the navigation and settings menus.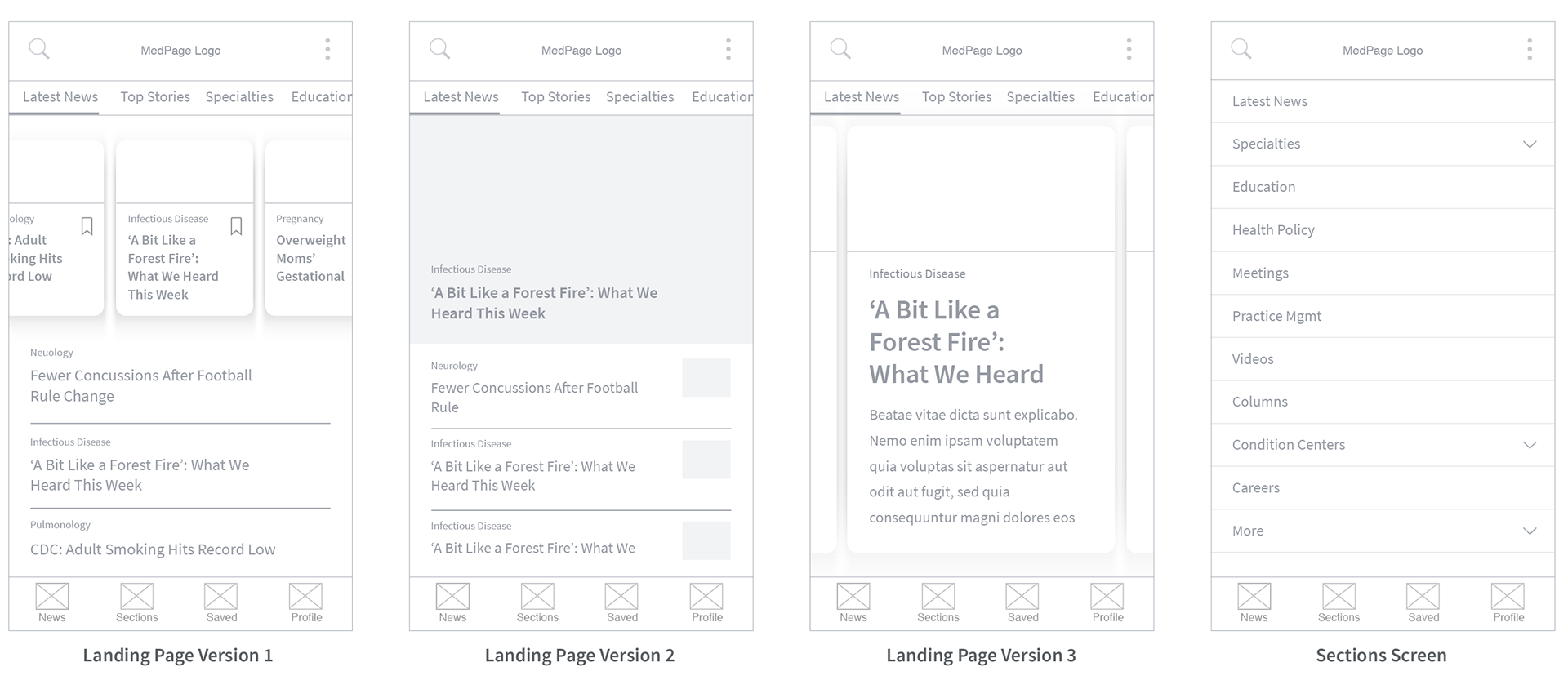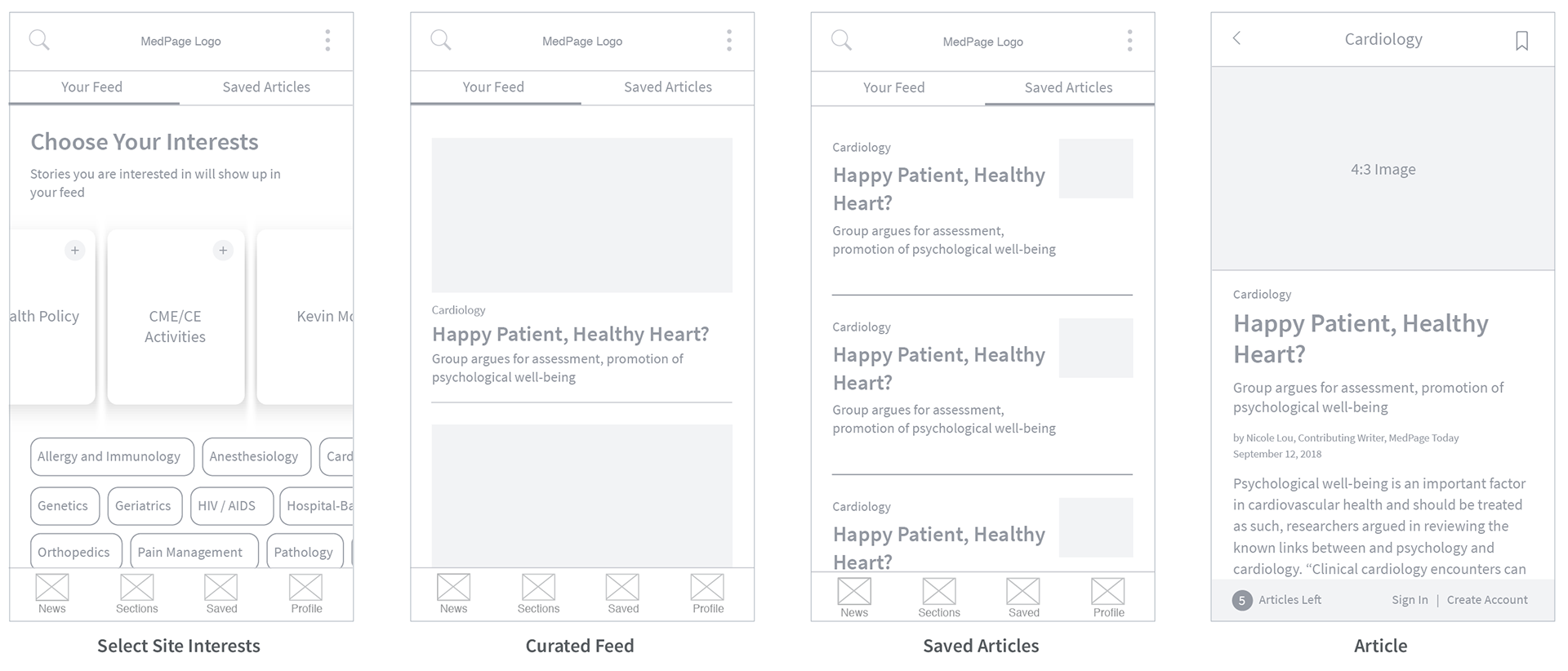 Testing
Feedback from A/B testing proved that the first landing page was the most successful in user retention and content engagement. From here we could move onto the initial designs for the homepage.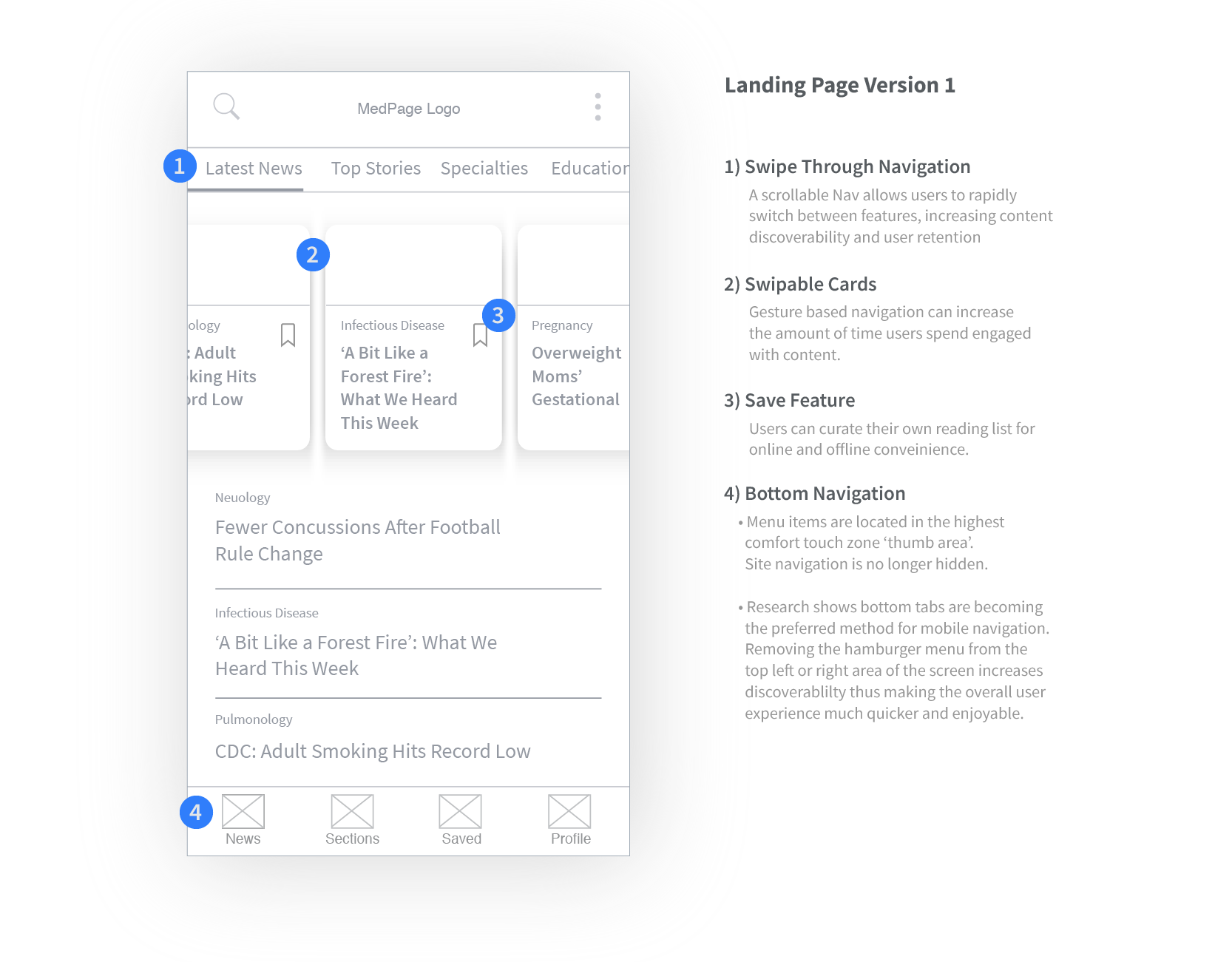 We focused on clean, inviting typography and keeping visual consistency throughout our designs. The type we chose was Source Sans Pro, a sharp san serif that we currently use on our website. The new design also incorporates gesture based interactions and bottom screen navigation.
"It's very important to place top-level and frequently-used actions at the bottom of the screen. This way, they are comfortably reached with one-handed and one-thumb interactions. Bottom navigation should be used for the top-level destinations of similar importance."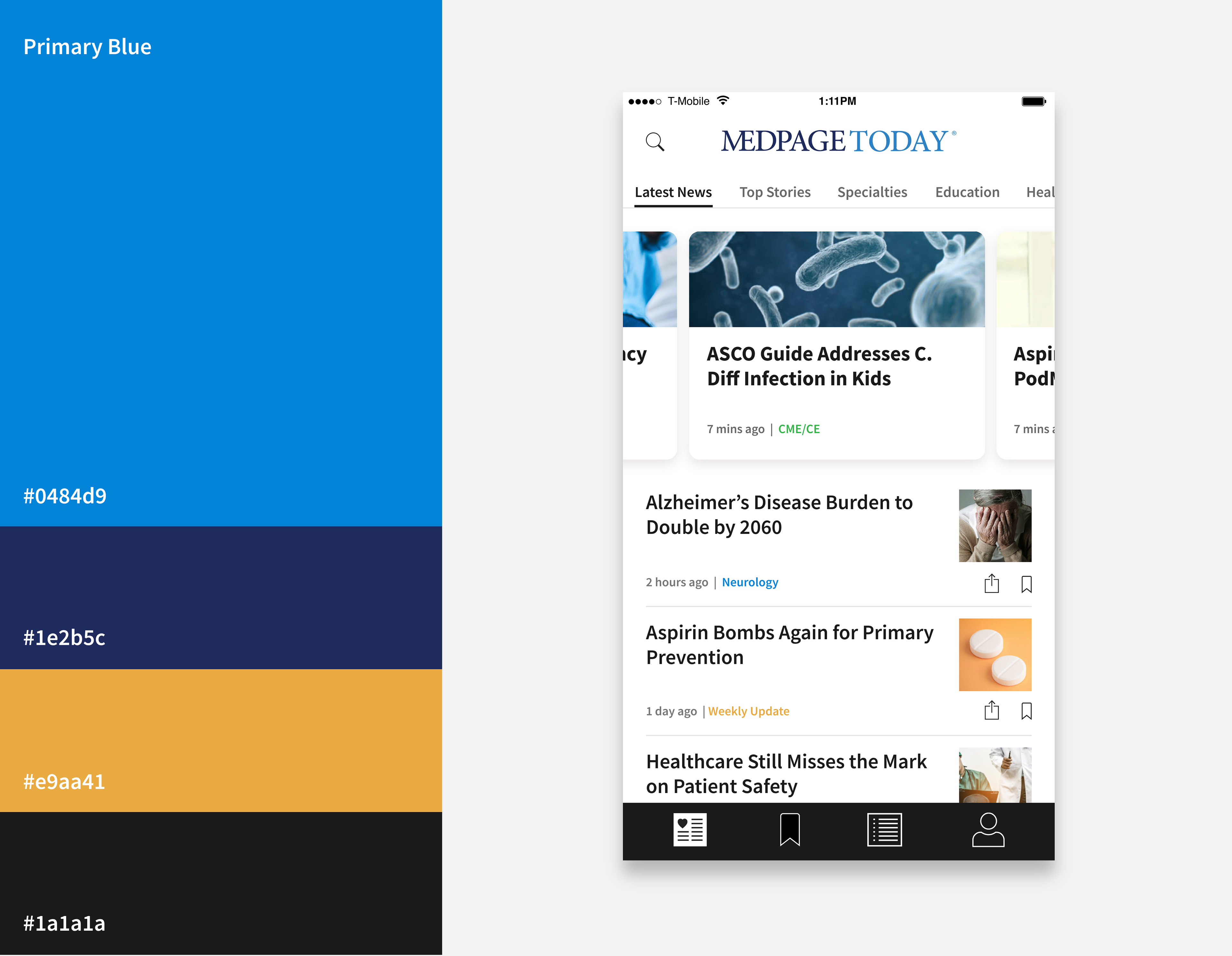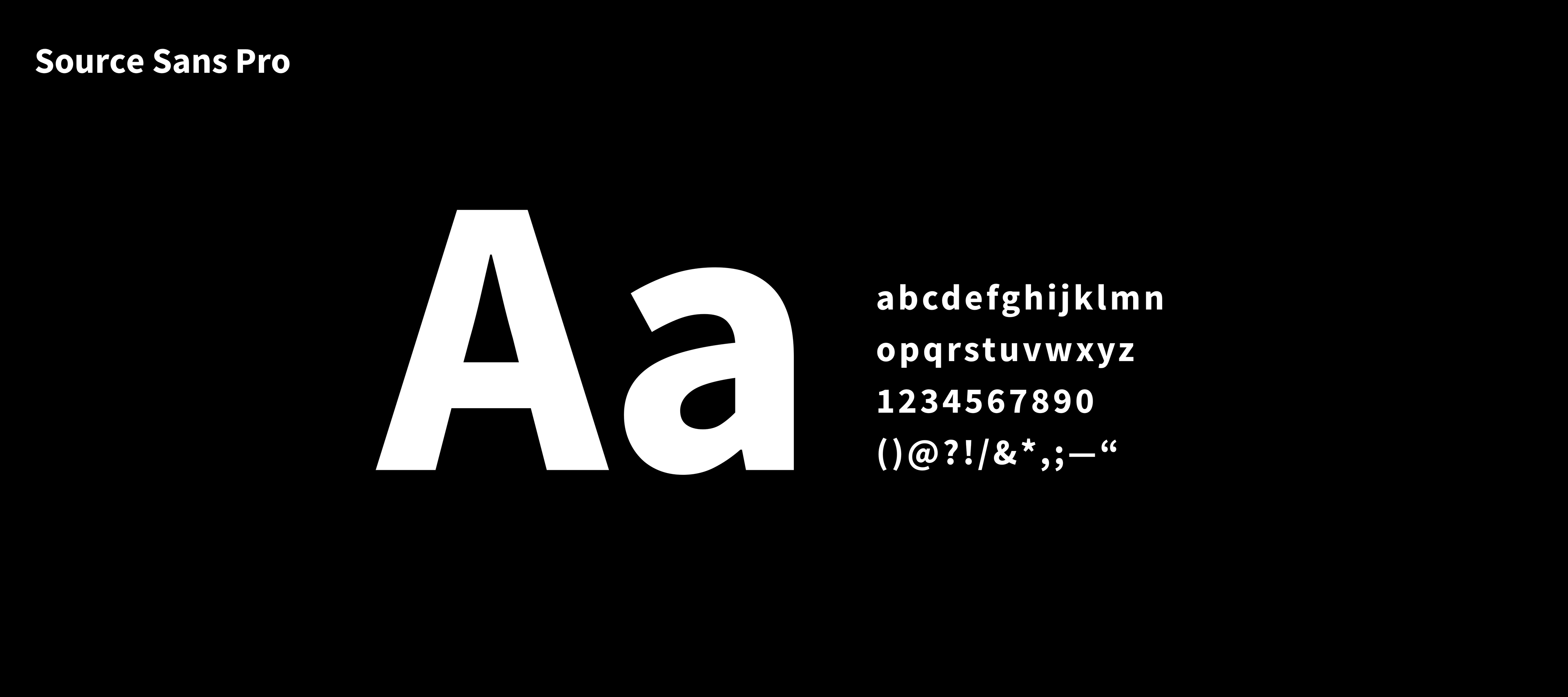 The initial re-design includes:
— Top and Bottom Navigation
— Scroll Through Articles
— Save Feature
— My MPT (Curate Your Newsfeed)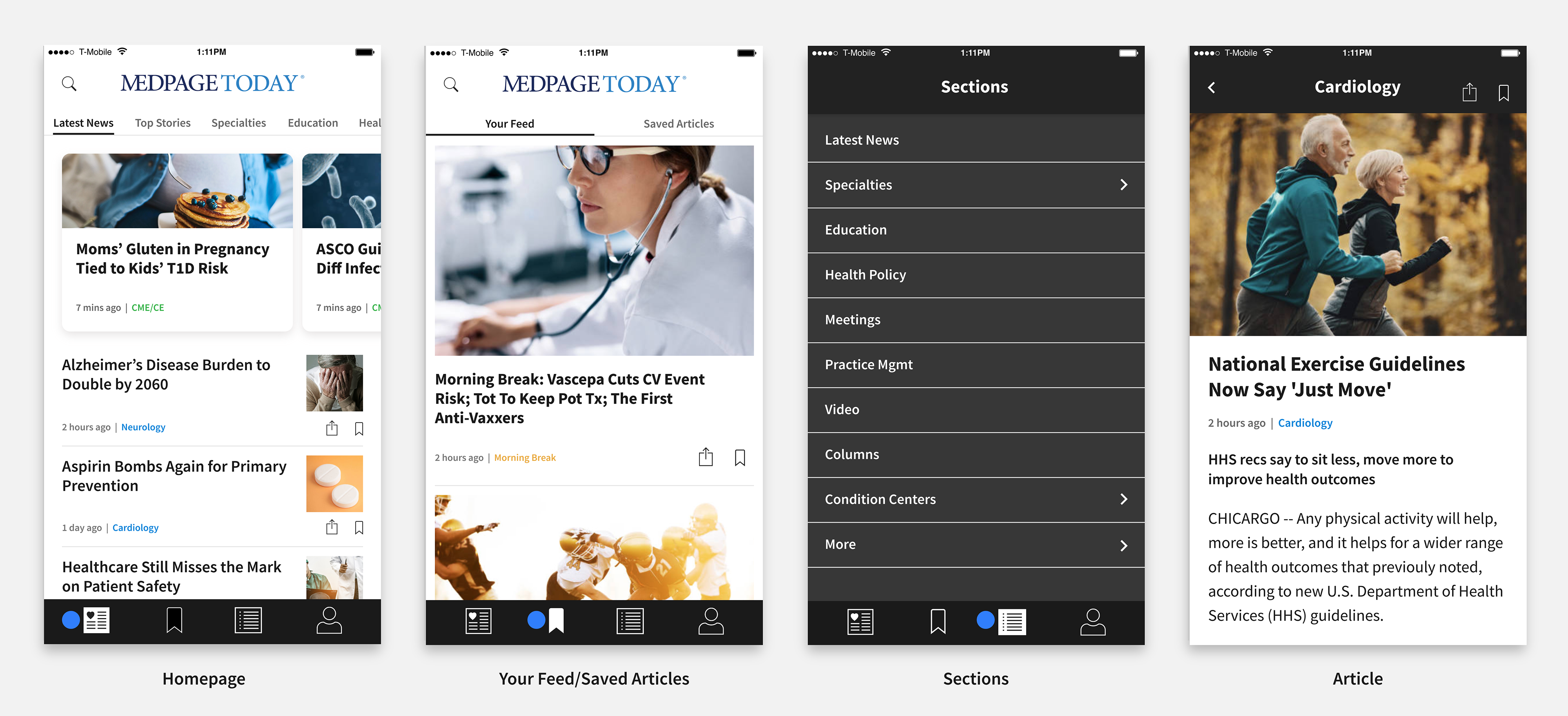 The following interactions were created in InVision Studio: